03 février 2008
[My kitchen diaries has a new adress! Update your bookmarks... For you not to get lost around: an update with all the links of the old and new recipes on my 'new' kitchen diaries ,
Bon appétit, m.]
I hope this recipe index will help you roam around my kitchen more easily If not mentioned otherwise, recipes are in english. Have a look at the lexicon for french, english and dutch equivalents of the main ingredients and techniques. Enjoy, m.
Breakfast and brunch
Baghrir Crêpes mille-trous
Appetizers and Starters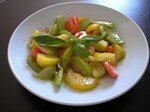 Asparagus and vanilla mousse with its strawberry and argan oil dressing (EN) Mousse d'asperges blanches a la vanille et son coulis de fraises a l'huile d'argan (FR)
Chestnut cream soup Velouté de chataignes
Cod fish and fennel carpaccio Carpaccio de cabillaud et fenouil
Cracky tartlets with moroccan style sardines and candied tomatoes Tartelettes croustillantes aux sardines fraiches et tomates confites
Fresh cod fish in passion fruit marinade Cabillaud mariné aux fruits de la passion
Mini minute made gazpacho Mini Gazpacho minute
Mini melon and prosciutto skewers Petites brochettes melon/jambon
Mini savoury tartlets with candied tomatoes, spicy apple compote and smoked dcuk... Mini tartelettes sablées aux tomates confites, compote de pomme épicée et magret fumé...
Parsnip cream soup Velouté de panais
Pumpkin cappuccino Cappuccino de citrouille
Spicy dutch cheese sablés Petits sablés épicés au Gouda
Tender green salad Salade vert tendre
Tuna and salmon duo in ginger and wazabi marinade Duo de thon et saumon marinés au gingembre et au wasabi
Fish and seafood
Bacalhau bastella Pastilla à la morue
Cod fish and fennel carpaccio Carpaccio de cabillaud et fenouil
Cracky tartlets with moroccan style sardines and candied tomatoes Tartelettes croustillantes aux sardines fraiches et tomates confites
Fresh cod fish in passion fruit marinade Cabillaud mariné aux fruits de la passion
Improvised sauteed squid Calamars sautés
Moroccan style mackerel Papillote de maquereau a la marocaine
Tuna and salmon duo in ginger and wazabi marinade Duo de thon et saumon marinés au gingembre et au wasabi
Winkles Bigorneaux
Meat and poultry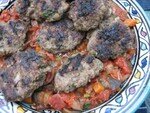 Canneloni with fresh tomato saus Canneloni aux tomates du jardin
Chicken, onions and raisins tajine Tajine de poulet aux raisins at aux oignons
Guinea fowl marinated in calvados and mustard Suprêmes de pintade marinés a la moutarde et au calvados
Hachee (dutch hash stew) Boeuf mijoté à la hollandaise
Rabbit with wild mushrooms Lapin aux champignons sauvages
Veal and prune tajine Tajine de veau aux pruneaux
Veal tenderloin with grapes chutney Filet mignon de veau et son chutney aux raisins
Greens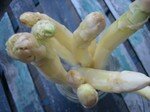 Celeriac mash Purée de céleri
Parsnip cream soup Velouté de panais
Pumpkin cappuccino Cappuccino de citrouille
Spring zucchini and asparagus risotto Risotto printanier aux courgettes blanches et pointes d'asperges
Zucchini tagliatelles Tagliatelles de courgettes
Pasta & Rice
Canneloni with fresh tomato saus Canneloni aux tomates du jardin
Spring zucchini and asparagus risotto Risotto printanier aux courgettes blanches et pointes d'asperges
Sauces and chutneys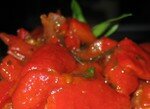 Grapes and red oignon chutney Chutney aux raisins et oignons rouges
Sweets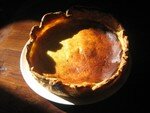 Appletart with hazelnuts Tarte aux pommes et aux noisettes
Cheesecake with "Fromage blanc" Tarte au fromage blanc
Chestnut and chocolate bites Bouchons marron & chocolat
Chestnut and hazelnut cake Cake aux marrons et aux noisettes
Dutch plums tart Tarte feuilletée aux prunes hollandaises / Hollandse pruimen Taart
Lemon squares Carrés au citron
Pear and almond bites Bouchées amandines aux poires
Speculaas Spéculoos
Stewed pears, candied lemon peel and almond tiles Poires pochées, écorces de citron confit et tuiles aux amandes
A strawberry tart for my valentine Une tarte aux fraises pour Valentine
Drinks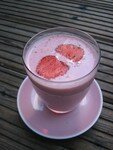 Melon/raspberry/vodka cocktail Cocktail framboise, melon & vodka