22 octobre 2007
While my dutchie is a cycling freak and could spend hours looking and shopping for fancy expensive cycling gear, I, as a lazy gourmande, have something for fancy kitchen equipment... six pit stoves, professional gas-ovens, or just the kitchen aid department at my favourite cook shop make my eyes shine with envy. Fridges are no exception though they are a little bit lower on my excitement scale. I dreamt for the cool and airy space of a fridge and freezer large enough to handle my saturday morning market escapades and our returns from France and our unevitable stops at the king of the supermarkets, ... Carrouf*.
We've had it with our small-ugly-old fridge. It helped us getting started, and we're glad. But it had its time: all door handles are broken and the freezer compartment has turned in an ice generating machine. So, there we went and buy a new fridge. Given the size of our kitchen, the limitations were high... but we found it: a high aluminium one door fridge/freezer combination with temperature management and a no-frost system of course!
Like a kid, my dutchie wanted to take it right away, but (luckily) they didn't have it in stock so we had to wait a few more days for the delivery. The next friday, there it was at last. The small-ugly-old fridge was emptied and set to wait on the terrasse in no time. First cleaning up, power on... one hour waiting. We could see the led temperature quickly dropping to arctic temperatures. There we were. After the required indicated time we transfered our new food cargo recently acquired on our last trip to France back into the freezing cold. Happy like hippoes we feasted and celebrated our new fridge before falling into the arms of Morpheus with happy food dreams.
The next morning, my dutchie was up early to prepare a nice breakfast with croissants that he had prepared and frozen the week before. Berezina... For whatever reason our new acquisition revealed to be a defrost instead of a no-frost! It just didn't work... After a whole night, everything was defrosted: the farm chicken, the charolais T-bone steak, the duck breasts, the croissants dough, the morrocan pancakes, the rolls of flaky pastry... We could have cried, (I would have if I was not under the schock)... we put the small-ugly-old fridge back on, right there on the terrasse and we decided to party! I spent the whole day in the kitchen, making stews of what could be stewed, tarts, quiches and terrines while my dutchie called around our closest friends to put a large improvised sunday brunch together....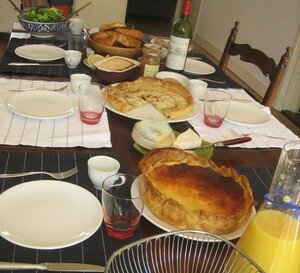 That was a fun cooking frenzy weekend topped with a great sunday brunch shared with good friends... and I now have a whole set of new recipes to share with you: From home made croissants to salmon terrine passing by apple tarts, morrocan pancakes, chicory quiche, tarte au fromage blanc and a chicken and raisins tajine!
* Carrefour or Carrouf for the nostalgic expatriated french. The holy grail of the french supermarkets.
Hungry? here's to begin with:
Salmon terrine with fresh herbs from the garden
Terrine de saumon aux herbes du jardin

serves 6 to 8
prep: 10 min cook: 30 min
Ingredients:
250g salmon fillet, roughly diced,
1 shallot, chopped,
3 eggs,
15cl liquid cream,
juice of 1/2 lemon,
2 Tsp olive oil,
1 handful chopped parsley,
1 handful chopped chives,
2 sprigs of basil, chopped,
a few mint leaves, chopped,
sea salt, pepper and chili pepper to taste
Preheat the oven at 180 deg C.
Put the diced salmon, chopped shallot and the 3 eggs in the bowl of a blender or food processor. Add the liquid cream, lemon juice, olive oil and season to taste with salt, pepper and chili pepper. Blend until liquid and smooth. Stir the herbs into the mixture.
Pour in a greased medium size terrine (~15cm) and cover with baking foil. Bake 'au bain marie' * in the oven for 30min.
Leave to cool completely at room temperature. Then, forget in the fridge for at least an hour.

Serve cold as an aperitif with toasts or as a starter with mixed young leaves. You can serve it with lemon, a homemade mayonnaise, or a fresh tomato sauce made of thinly chopped fresh tomatoes, 1 small grated clove, fruity olive oil, a dash of lemon and basil.
Bon appetit!

** "Au bain marie" is a french cooking term. It means putting the baking dish in a larger one partly filled with warm water right in the oven. It's often used to bake terrine, mousses or cremes brulees.