21 septembre 2007
Yes, I know... summer is long gone in the netherlands (if it ever came at all). Just stopped in town today after work to buy myself a new and warmer jacket 'cause I was freezing and blessed god for my heater thermostat when I came home. Not that the weather is so bad here, it's just cold. I can't help but long and dream for just a little bit more of summer. Warm evenings with late sunsets and a lot of friends around the barbecue... And you, well you might have more luck than me with that if I trust the world weather forecast which has kept me red with jealousy for the last three months. If you do, please enjoy one more outdoor aperitif in the sun for me...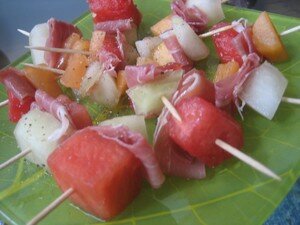 Petites brochettes melon jambon
(Melon and ham skewers)
aperitif
serves 4 to 8. prep: 10 min
Ingredients:
400g of various sorts of melon and watermelon diced,
10 thin slices of parma ham,
a dash of olive oil,
"fleur de sel" and pepper to taste

mini skewers
Wash, peel and chop the melons and watermelon in dices (~2x2cm). Cut the ham slices in 6 rectangles. Use your imagination to create colourful skewers alternating a couple of melon dices with a thin rectangle of ham. Season with fleur de sel, pepper and a dash of olive oil. serve fresh with a glass of wine or a summery cocktail like the one below for example

Bon appetit!
Melon/raspberry/vodka cocktail
cocktail
serves 6. prep: 5 min
Ingredients:
half of a ripe and perfurmed green or yellow melon (I used a dutch "Hollandse Oogst" melon),
150g fresh or frozen raspberries,
1 1/5 lime juiced,
a few basilic leaves,
a pinch of pepper,
2 Tsp brown sugar,
20 cl vodka,
15 ice cubes.
Wash, peel and cut the melon in pieces. Pour all ingredients in your food processor and mix until you get a smooth mixture. Pour in a summery caraf. Go back to your friends on your terasse or garden and enjoy your cocktail with the girls while the men get the barbecue ready.

Cheers!
ps. For a kid friendly version, just skip the vodka and replace it with apple juice or some extra melon.