18 octobre 2007
Lately, a wind of change blows on my kitchen diaries. I am far from an advanced programmer and have come to realise that some features will remain out of my reach for long. Yet, little by little, I wish to make my kitchen a cosy, homy and handy place for every one, like the kitchen of my childhood where everyone would always come back too.
A recipe index, was definitely missing to this blog, especially with my bad habits of giving pretty strange post titles. I hope it will help you roam around my kitchen more easily!
If not mentioned otherwise, recipes are in english. Have a look at the lexicon for french, english and dutch equivalents of the main ingredients and techniques.
Enjoy,
m.
Breakfast and brunch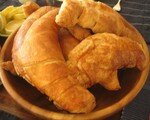 Baghrir
Crêpes mille trous

Apetizers and Starters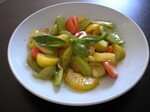 Asparagus and vanilla mousse with it's strawberry argan oil dressing (EN)
Mousse d'asperges a la vanille et son coulis de fraises a l'huile d'argan (FR)
Cod fish and fennel carppacio
Carpaccio de cabillaud et fenouil
Crispy tartlet with sardines and candied tomatoes (FR)
Tartelettes croustillantes aux sardines et tomates confites
Fresh cod fish in passion fruit marinade
Cabillaud marine aux fruits de la passion
Melon and prosciutto skewers
Petites brochettes melon/jambon
Mini minut made Gazpacho
Mini Gazpacho minute
Pumpkin cappuccino
Cappuccino de citrouille
Salmon terrine with fresh herb from the garden
Terrine de saumon aux herbes du jardin
Tender Green salad
Salade vert tendre
Tuna and salmon duo in ginger and wasabi marinade
Duo de saumon marines au gingembre et au wasabi
Fish and seafood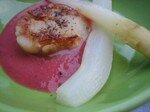 Bacalhau Bastella (Cod fish pastilla)
Pastilla a la morue
Improvised sauteed squid
Calamars sautes
Morrocan style mackerel "papillote"
Papillote de maquereau a la marocaine
Tuna and salmon duo in ginger and wasabi marinade
Duo de saumon marines au gingembre et au wasabi
Meat and poultry
Canneloni with fresh tomato sauce
Canneloni a la tomate fraiche
Guinea fowls marinated with calvados and mustard
Supremes de pintade marines a la moutarde et au calvados
Prune and veal tajine
Tajine de veau aux pruneaux
Veal tenderloin with grapes chutney
Filet mignon de veau et son chutney aux raisins
Greens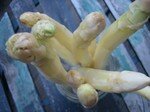 Spring zucchini and asparagus risotto
Risotto printagnier aux sourgettes blanches et pointes d'asperges
Zucchini tagliatelles
Tagliatelles de courgettes
Sauces and chutneys
Grapes and red oignon chutney
Chutney aux raisins et oignons rouges
Sweets
A strawberry tart for valentine
Une tarte aux fraises pour valentine
Dutch plum tart
Tartes aux prunes hollandaise/ Hollandse pruimen taart
Chestnut and chocolate bites
Bouchees au marron et au chocolat
Lemon squares
carres au citron
Pear and almond bites
Bouchees amandines aux poires
Tart with "Fromage blanc"
Tarte au fromage blanc
Drinks
Melon, raspberry and vodka cocktail
Cocktail melon, framboises, vodka