13 octobre 2007
Lately, one of my carnivore relatives who had just discovered my blog made the remark that there was something essential missing on this blog: MEAT! I didn't believe her until I went through my archives... Since I started this blog, I hardly published a couple of meat recipes. I was schoked, I had to rectify that.
So, readers, here is the truth: I am far from a vegeterian. I LOVE meat, all kinds of meat (except maybe some of the pork pieces). One of my favourites is a juicy and rare "cote de boeuf" from the barbecue... that says it all. I cook meat too: in tajines, stews, on the grill... Yet, I must admit that since I moved in with my dutchie and discovered his innate talent and pleasure in handling meat I often leave him my place in the kitchen when meat is involved. What can I say: when it comes to love... and perfectly cooked meat, it is all a matter of compromises!
If I can convince my dutchie in giving some of his secrets away, I'll be introducing a new post category in the near feature to give you a glance of his cooking talents: there will be plenty of meat! In the mean time, here's a sample of my personal meat recipes. The recipe itself is a chutney that makes a perfect stuffing or sauce with white meat (veal, chicken or pork "filet mignon").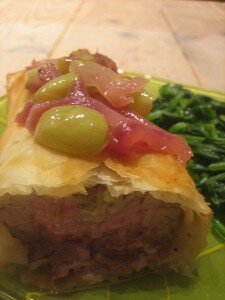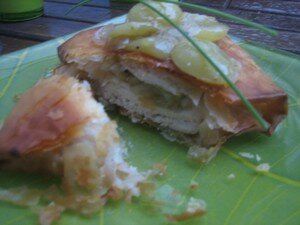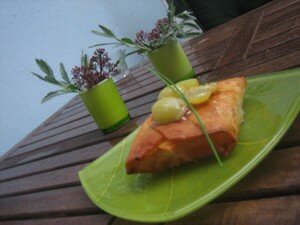 On top is the veal tenderloin version, below is the chicken version.
Personnaly I have a little preference for the veal. I leave the choice to you!
Grapes chutney saus
prep: 10 min cook: 15 min
Ingredients:
400g ripe green grapes (preferably without pit)
1 small red oignon
1 tsp of rasped fresh ginger
1 pinch of cinnamon
1 clove
10 cl dry fruity white wine (chardonnay, viognier...)
1 knob of butter
sea salt and pepper to taste.
Wash the grapes, peel half of them and then halve them all, remove the pits if necessary. Chop the oignon in thin slices. In a small cooking pan, sauteed the grapes, oignon and spices with the butter for 5 min on high fire. Add the wine and bring to boil. Lower the fire after the 1st boil. Leave to reduce for 10min (check once in a while so that you don't end up with burned jam).

This chutney is perfect to use as a filling or a sauce with white meat such as chicken filet, veal or pork filet mignon. I like to make a crust of filo or flaky pastry around the meat. Then bake in the oven at 200 deg C for 10 to 20 min depending on the weight of your meat portions.

Bon appetit!