09 septembre 2007
I don't know where summer got lost this year, but it definitely forgot to come and say hello to the Netherlands. On the other hand, autumn is already at the door. Strangely, days seem to be getting sunnier here, but they are definitely getting shorter and cooler.
I love the fruit in this period in between seasons: the sweet and tasty figs (though the one in my garden are still hard as rocks and unripe green), the plums (pruims), the grapes...
I particularly like the dutch plums, "Hollandse pruimen", their half purple/half golden colour their perfect size, slightly smaller than an egg, and their taste. Don't get me wrong, the Francaise like I am loves the reine-claudes and the mirabelles, but really, the dutch plums are worth a detour too.
Plums like figs are great in tarts, especially on fresh sunday afternoons. For the last couple of years I have become a fan of the following variation. Look for your selves with the 2005 version...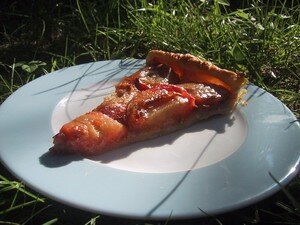 and the 2006 version with filo pastry, the one I did lately disappeared before I got the chance to take out my camera!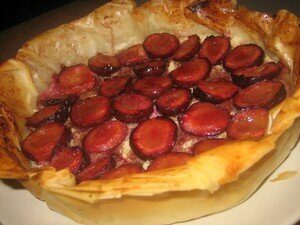 Tarte feuilletee aux prunes hollandaises / Hollandse pruimen Taart
prep. 20 min, cooking: 10min + 15min
Ingredients:
500g ripe dutch plums
1 (ready-made) flaky pastry (roll)
30 g of butter
5cl of cognac
4 Tsp of powdered hazelnuts
5 Tsp caster sugar
a pinch of cinammon
a pinch of cardamon
that's it!

As a lazy gourmande, I always have a roll of flaky pastry waiting for me in the freezer. if not, or if I feel for a lighter version, I just pick 4 to 5 sheets of filo pastry instead. Half an hour out of the freezer and It' ready to cook. Preheat your oven at 200 deg. In the mean time, wash, dry and halve your plums. Keep them in a bowl where you add 2 Tsp of sugar, the cognac and the spices. Put the flaky pastry in a tart mould, prick with a fork and cover with dried beans, stones or whatever you normally use to prevent the crust from raising, Bake for 10 min. If you've decided to go for the filo version: make sure your mould is well buttered, don't prick, and leave only a couple of minutes in the oven. Spread evenly the grinded hazelnuts mixed with 1 Tsp sugar on the tart, dispose the plums on the tart (skin part under), sprinkle with the rest of the sugar and add a pinch of butter on each plum, pour the marinade over the tart and bake for 15 min. Serve slightly warm.
Bon appetit!