29 juillet 2006
As promised in my previous post, here is my second of this summer "raw fish" special coming right out of the kitchen...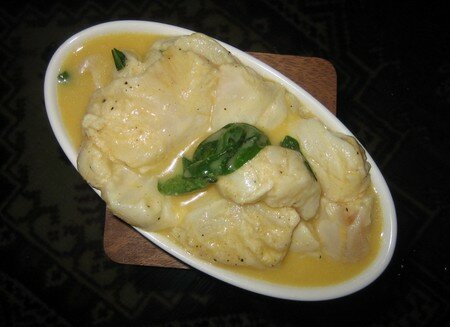 Fresh cod fish in passion fruit marinade

2 pers. prep: 10 min
Ingredients:
300g fresh cod fish filet
1/2 lemon
1 Tsp. olive oil (fruity but not too strong)
a few leaves of fresh basilic
1 or 2 chili peppers
a pinch of sugar
sea salt, pepper

Wash your cod fishand put it in the freezer for at least half an hour. Prepare your marinade: mix passion fruit flesh withe juice of half of a lemon in your kitchen processor. Pass the juice through a thin sieve, to eliminate the seeds from the passion fruit. Mix the juice, olive oil and the pinch of sugar. Cut your cod fish in slices (~1/2 cm). Put the fish and lemon slices in a tupperware and cover with the marinade, add the chili pepers and chopped basil. Season with sea salt (preferably "fleur de sel") and fresh grounded peper. Close your tupperware, and here you go again: shake it, baby shake it! and forget it in the fridge while you enjoy the summer sun, a glass of chilled rose, a siesta, I think you know what I mean ... Dispose the fish in a nice plate or terrine. Serve as an apetizer or starter.

Bon appetit!